25128 Newhall Avenue
Santa Clarita
California
91321
US
About 95Visual:
With over 15 years of experience, 95Visual is a distinguished digital marketing and web development firm offering custom web and marketing solutions tailored to individual business goals. Based in Santa Clarita and servicing the SoCal area (and beyond), we understand the evolving digital landscape and the increasing importance of a robust online presence. As screen time skyrockets, our mission is to help you reach and engage your audience effectively.
Our areas of expertise are focused on Business Development & Strategy, Marketing & Lead Generation, SEO & Content Strategy, and Web Design & Development. We excel in helping 6-figure companies scale to 7-figures and beyond through strategic marketing, insightful content strategy, and comprehensive Drupal development. Our custom-tailored approach sets us apart from our competitors, ensuring that we address your unique needs rather than providing one-size-fits-all solutions.
Over the years, 95Visual has been recognized for its excellence and innovation, winning over 100 design awards and being named a top marketing company in California and "Best of SCV" for Web & Marketing. But our true measure of success is our clients' growth. One client shared, "I've been doing business with 95Visual for 5 years and their expertise in website design and Google search and optimization has propelled our business like nothing else"​.
As members of the Valley Industry Association, you can expect our full attention to detail, a focus on your needs, and the benefit of a local company that's committed to your success. To explore how we can help you achieve your goals, reach out and book a discovery call.
Choose 95Visual, the award-winning Santa Clarita Marketing Agency, to guide your business towards success in an increasingly digital world.
About Joshua Maddux: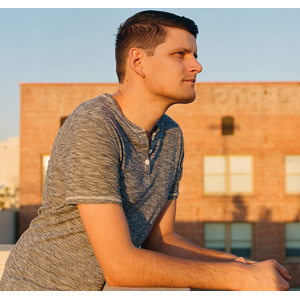 Meet Joshua Maddux, the strategic powerhouse behind 95Visual. As the founder, Joshua brings an in-depth background in website planning, strategy, development, and architecture to the table. He has honed his skills in managing web projects, building and migrating large web applications, and helping our clients establish and maintain a compelling web presence​.
Joshua's leadership goes beyond traditional web design and development. He's passionate about helping clients scale their businesses, using targeted strategy and effective marketing. He understands that each business is unique, and he works closely with clients to create tailored plans that align with their individual goals. Whether it's designing a new website, optimizing for search engines, or crafting a comprehensive marketing campaign, Joshua's strategic insights play a pivotal role in propelling clients' businesses to new heights.
His proficiency in Information Architecture, Project Management, and Web Strategy allows him to anticipate trends and deliver results in the constantly evolving digital landscape. It's this forward-thinking approach that has helped 95Visual earn recognition as a top marketing company and enabled numerous clients to scale from 6-figure to 7-figure businesses and beyond.
In addition to leading 95Visual, Joshua is heavily involved in the local business community. He sits on the board of the Santa Clarita Valley Business Group and the UCSB PaCE CX Advisory Board, and is a member of the Santa Clarita Chamber of Commerce and the Valley Industry Association​​. His commitment to these organizations underscores his dedication to fostering business development and growth in the region.
With Joshua at the helm, 95Visual is not just a digital marketing and web development firm. It's a strategic partner for businesses seeking to grow, scale, and thrive in the digital age. Reach out to Joshua and the 95Visual team to see how they can help your business reach its full potential.
Contact Person
Joshua Maddux